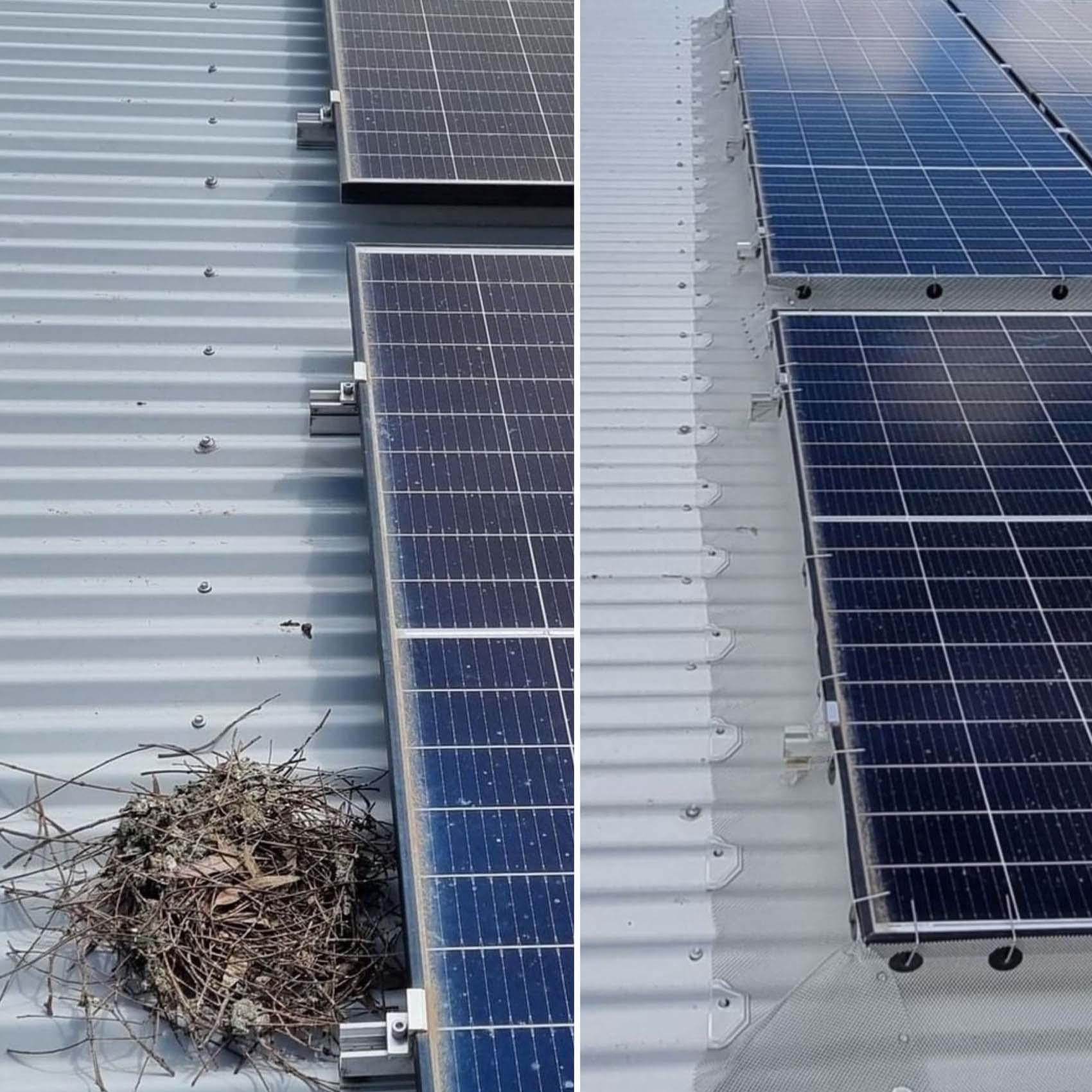 Protect your Solar Panels from nesting birds and other vermin
As many more Australian property owners install solar panels on their rooftops, owners are discovering how popular they are with pigeons and other problem birds as nesting sites.
Pigeons, possums, like many other animals, seek shelter and protection from predators. Solar panels mounted on rooftops provide exactly the right environment for them to establish their homes. The space under the solar panels is shaded, relatively cool, and not easily accessible by predators which makes it a great space for pigeons, other nesting birds and possums to live.
What's the problem?
Solar panels offer a cleaner, more efficient way to meet energy needs. However, outdoor pests, like pigeons, birds and possums, tend to wreak havoc on solar systems which could wind up costing you more time and money in the future. Many animals like to use solar panels for shelter but can end up causing irreparable damage over time.
What are some of the dangers of pests nesting under your solar panels?
Potential fire hazard from a build of nest kindling/leaves between the roof and solar panels

Electrical hazard from birds, possums and other vermin moving about or chewing wires

Increase buildup of waste that ends up blocking gutters and downpipes

Health hazard from animal/bird waste buildup and the associated putrid smell

Excessive noise from roosting birds
Bird/vermin droppings are highly acidic and can stain and corrode roofing material

Water contamination in gutters and rainwater tank collection systems

Reduced airflow underneath the panels will decrease their efficiency to operate

Fouling solar panel surface rapidly reducing their efficiency
Yes! There is a solution
Gutter Knight has solved this problem with an innovative, humane system that creates a physical barrier around your solar panels which minimises access by these vermin to under your solar panels.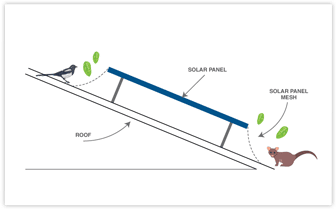 What are the benefits of using a solar panel protection system?
Protect buildings and equipment from corrosive bird droppings

Decrease fire hazards caused by bird nests, leaves and debris

Reduce health and liability risks associated with bird and animal infestation
Maintain your property aesthetics

Minimise the cleanup and maintenance costs of your property

Pest prevention is better than an expensive repair bill
What we do
This installation system does not void your warranty as it is non-intrusive to the panels, there is no drilling or cutting involved. In fact, the method we use won't leave a scratch on your system. We use a high-quality aluminum mesh that is powder coated not only for extra protection but to also blend into your roof. The mesh does not rust and is removable for servicing your panels.
Our unique clips ensure a secure fixing and won't scratch panels

The clips lock the mesh to the panels without drilling holes or damaging the system

Nearly invisible from the ground

Your Solar Panel warranty is not affected
The mesh can be easily removed if required and reinstalled

Mesh allows airflow to freely circulate under the panels allowing them to operate efficiently, while keeping the critters and debris out

Humane product